The most important part of a CRM system is being able to quickly access all the data you need. Switching between programs increases errors, tests your patience, and increases wait times. Whether it's an invoice, sales data, or contact information, you want that data quickly, and in the proper context.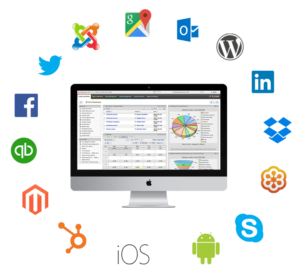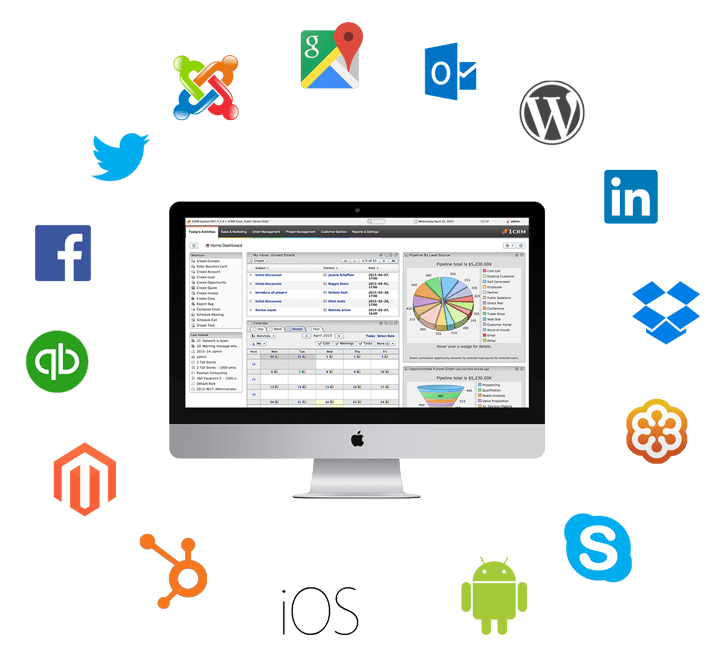 1CRM integrates with over 30 products and services to provide you with the most powerful CRM system on the market. You can manage your entire business from just one online platform, using your laptop or mobile device.
These days, customers can contact you through so many mediums, it can be hard to maintain a complete profile of each client. They might find you on social media, in person, telephone, email, and now live chat on your website. To make sure you're always ready to continue the conversation, 1CRM keeps track of every meeting, call, or email you have with a client. Now, it will also include any LiveChat interactions you have too!
How does it work?
This integration allows full chat sessions to be captured within 1CRM and logged as Activities. The Chat sessions are linked to existing Contacts or Leads – or a new Contact or Lead is created. As well, within LiveChat sessions, supplementary data from 1CRM is shown if a visitor is already known there.
Start using LiveChat:
Now each time a chat begins, the LiveChat agent app will display any of the following details for the chat visitor that are available in 1CRM:
Account Name
Title
Department
Email 1 & Email 2.
Home Phone, Mobile Phone, Work Phone, Other Phone & Fax
Website
Tips on Live Chat Etiquette for Customer Satisfaction 
Below you can see the LiveChat screen showing the additional information about the visitor provided by 1CRM.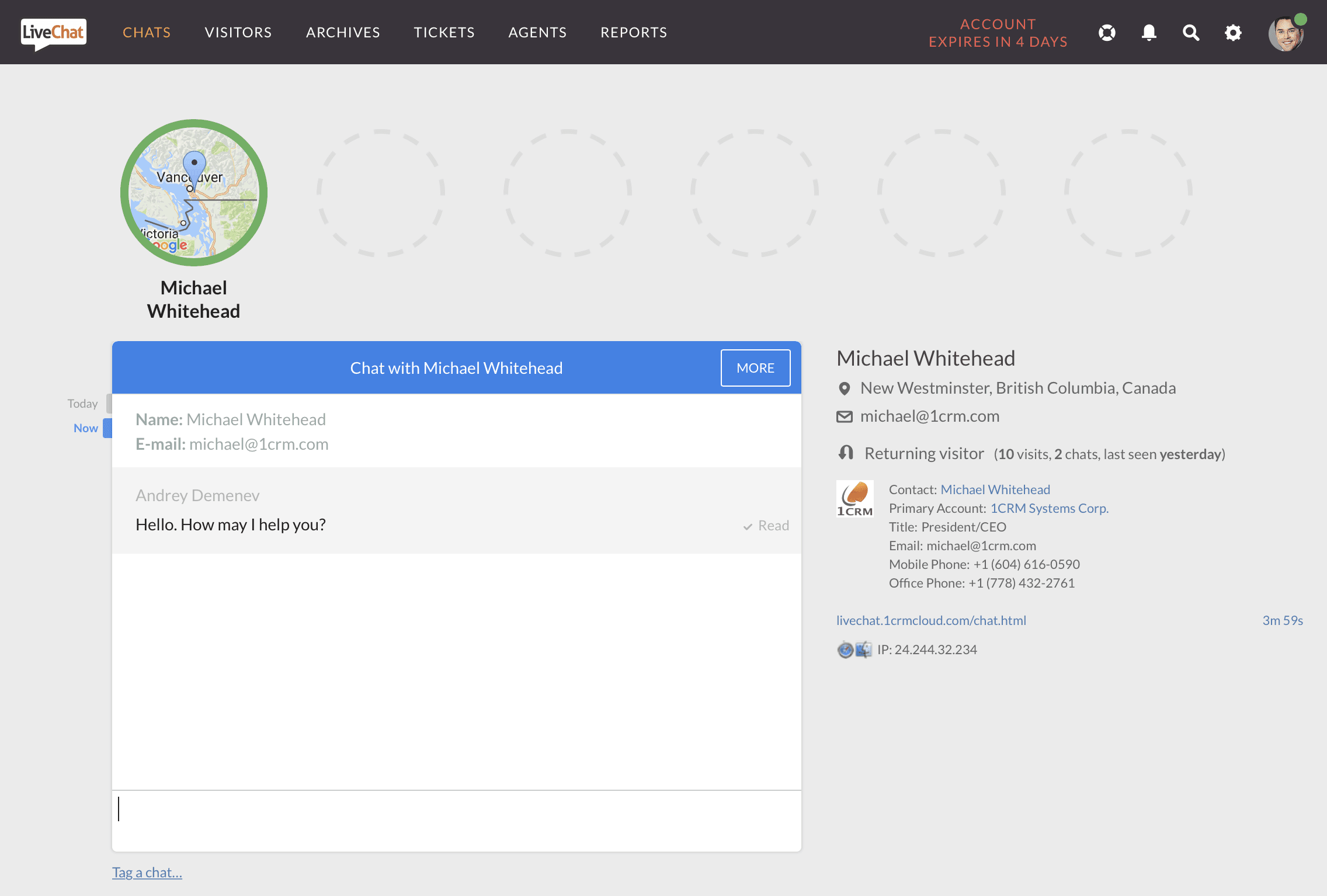 Once the chat is finished, the LiveChat transcript will be saved into 1CRM, associated with the Contact or Lead that was mapped to the LiveChat visitor, and assigned to the 1CRM User corresponding to the LiveChat Agent on that Chat. A sample Chat record in 1CRM is shown below. Chats show on the History sub-panel for Leads and Contacts in 1CRM, together with Emails, Calls, Meetings, Tasks and Notes.
Learn more about configuring 1CRM to work with LiveChat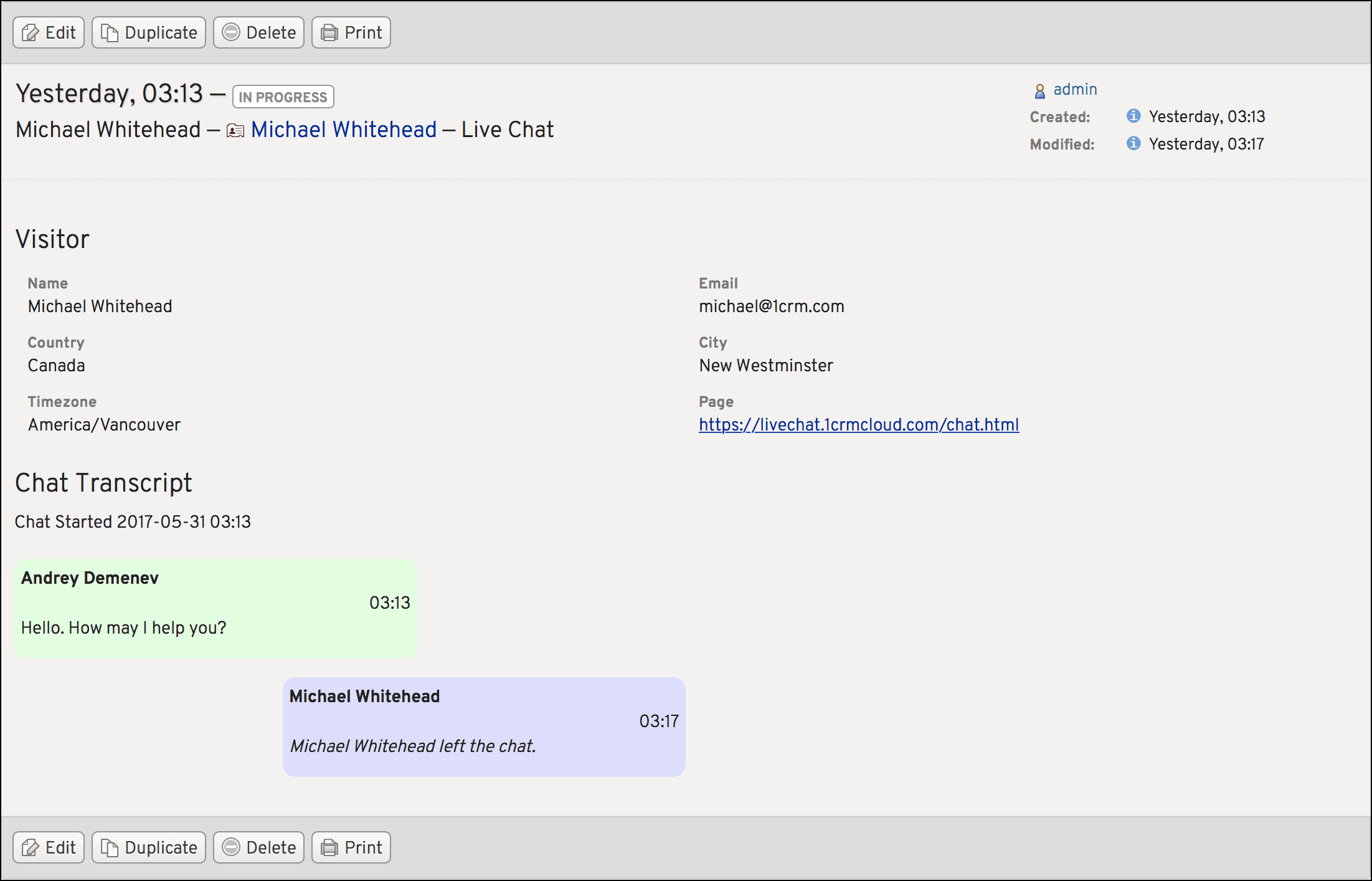 Ready to start using LiveChat with 1CRM? Sign up for your 30-day free trial below!