Whether you're considering a Cloud CRM solution – or moving to the cloud in general – you might have a few concerns over security. And you wouldn't be alone. Microsoft conducted a survey that reported 60% of SMB's had concerns about data security in the cloud, 45% worried about losing control over their data and 42% doubted the reliability of the cloud.
With so much customer data at stake, it's good to be concerned about CRM data security – but it's also important to be informed with the facts. Below, we'll address each of these concerns to help you decide whether Cloud CRM is right for your business.
Concern #1: Is my data secure in the Cloud?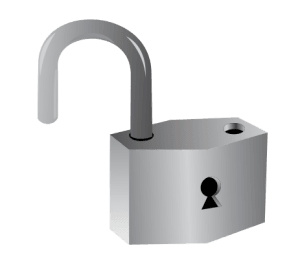 No matter what business you're in, you want to make sure your data can't easily be hacked into, deleted, or lost. After all, every document, contact, and email is a valuable asset to your business and potentially worth a lot of money.
When it comes to the Cloud, the first question you should ask yourself is "how secure is my data now?" Chances are pretty high that it isn't as secure as it would be in the Cloud. It just feels more secure because you are personally controlling it.
Cloud companies and data centres invest in professional security teams, who monitor their systems 24 hours a day. Security is their top priority because it's their consumer's top concern. This team has access to tools that SMBs could only dream of, and are much more capable of assessing security risks and preventing attacks.
Typically, user sessions within the Cloud are also fully SSL encrypted – establishing a highly secure, encrypted end-to-end connection between the servers and the point of use.
Like all security, a bit of it is up to you as well. Help protect your data by logging out of your CRM when it's not in use. Adjust role permissions so that new hires cannot delete or export critical data. Choose your passwords carefully, or select one that's randomly generated. Try not to use the same password for everything, or give out your password to anyone.
Concern #2: Is my data private in the Cloud?
Just like your On-Premise CRM solution, the only people who can access your data are approved employees within your business. And just the same, you can set various role permissions to restrict or allow access to certain pieces of data for different people.
1CRM Cloud Service is a public cloud, which delivers services to multiple organizations, unlike a private cloud which is dedicated to a single organization, or a hybrid which is a mix of the two.
However, it's important to distinguish that while the cloud may not be private (meaning built and used exclusively by your firm), your data is still not accessible by the other organizations or anyone except approved users.
Concern #3: Do I still own my data in the Cloud?
Before you choose a cloud software provider, it's important to check that they provide a way for you to get your data out of their system should you choose to leave.
Some companies like Salesforce and NetSuite have been known to hold your data somewhat hostage by allowing you to export it only infrequently, or with great difficulty.
1CRM by contrast, does not lock you in by keeping your data. You can simply export it as a CSV and take an SQL database backup at any time. You can even backup your entire system of software and data to DropBox automatically as often as you like. After all, it's your data, and is not our property in any way.
Concern #4: Could I ever lose access to my data in the Cloud?
The chances are extremely minimal that you will lose access to your data in the Cloud, especially in comparison to using an On-Premise server. Backups of your software and data are managed transparently by the Cloud infrastructure, so you don't need to worry about remembering to do it yourself (as it can be pretty easy to forget). And as mentioned above, you can easily export your data at anytime from the 1CRM Cloud Service.
What if the internet is down, or the power goes out? 
No problem! Go to your local Starbucks and use theirs, or head home until yours is back up. The important thing is that the internet/power is not down where your data resides.
World-class data centres such as the MS Azure data centres used by 1CRM have redundant power, redundant storage, and redundant internet connections all available to maintain connectivity in the most challenging conditions.
1CRM Cloud Service has a 99.5% availability commitment by using Azure. Anything less allows you to terminate your service. Not all CRMs offer this guarantee: for example Salesforce.com customers suffer from frequent outages without any service guarantee whatsoever.
It can be scary to try new things, especially when it comes to the data your business relies upon to survive. However, a survey by Microsoft shows that once SMBs experienced cloud services, 94% reported their data was more secure in the cloud than with their previous on-premise technology, 62% said they experienced an increased level of privacy and 75% cited an improvement in service availability.
Want to try out the Cloud today? Get your 1CRM 30-day free trial!