Have you been looking for a CRM with Skype integration? You're in luck because 1CRM includes Skype integration and a brand new call timer that automatically logs the duration of each call! This is especially helpful for booking hours, and also keeping track of time spent on support cases. After all, time is money in business.
This tool enables you to call your clients anytime, anywhere, and from any device, while automatically keeping a full history of all interactions with each client in the 1CRM system.
Calling With Skype & the Call Timer
When it comes time to make your call, if you like you can just click on the client's phone number as it is displayed anywhere in 1CRM, and the system will pop up a window to log the call. Just click on Call using SkypeOut to place the Call.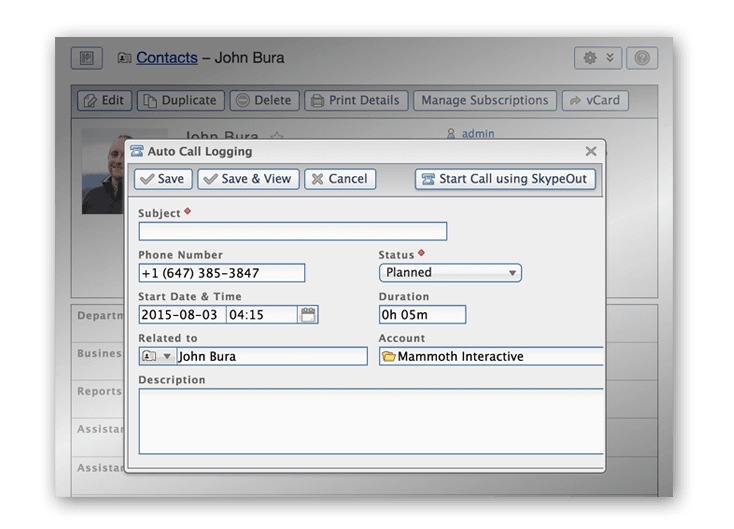 The moment you click on the Call using SkypeOut button to place your call, your Call Timer starts counting (it replaces the Call using SkypeOut button in the Call popup). Once your Call has been completed, or failed to connect, you can click on the Call Timer to stop the timer and automatically set the Call start time and duration.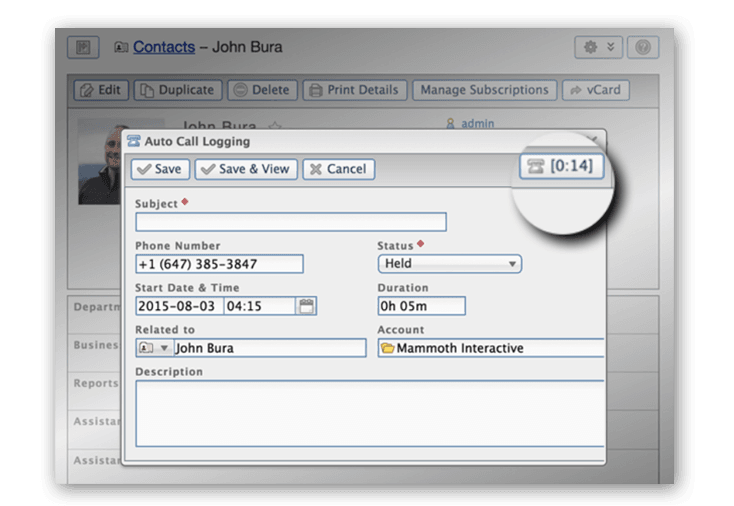 By default the system will use Skype to place the call right from your computer. Your system administrator has settings (Admin – System Locale Settings) that enable/disable call logging and SkypeOut calling, or select calling services other than Skype.
When you Save the record of the Call the system will record:
Call Subject
Time and date the Call was made
Duration of the Call
Any notes you want to take from the Call
The phone number called
The customer Account related to the Call
Any Call relationships to other information in 1CRM
Call Status – such as Planned, or Held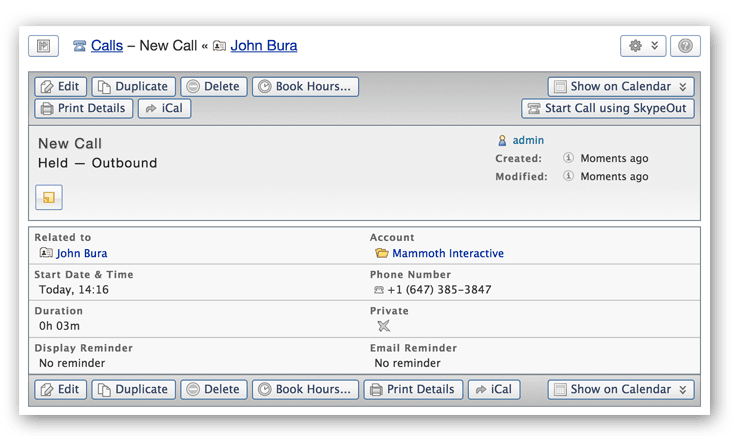 Within 1CRM, you can also schedule and a join a GoToMeeting session with your clients, or quickly link to their various social media profiles to get the latest news. Click here to learn how you can start your next GoToMeeting via 1CRM.
New to 1CRM? Get your risk-free 30 day free trial today to discover all that 1CRM can do for your business!