Do you need marketing help? Lead Guerrilla would like to apply for the position!
You've probably seen a few marketing automation platforms around. Some may have caught your eye but you weren't convinced. Perhaps the cost was too high, it looked too complicated, or it didn't sync up with systems you already have in place.
Today, Lead Guerrilla would like to apply for the position you've always been meaning to fill.
Acting as your virtual assistant, it will deal with large volumes of repetitive tasks such as emails, texts, social media posts and monitoring, website monitoring, and updating client records. Capturing leads, scoring them based on their actions, sending them personalized content via text, email, Twitter and the web, then generating reports to outline the progress made! And that's only the beginning of what Lead Guerrilla can do for your business.
Fully integrated with 1CRM, SugarCRM, Salesforce.com, Pipedrive or other CRM platforms, you now have CRM and Marketing Automation platforms working together to manage and grow your business effectively.
Want to learn more? check out our resume…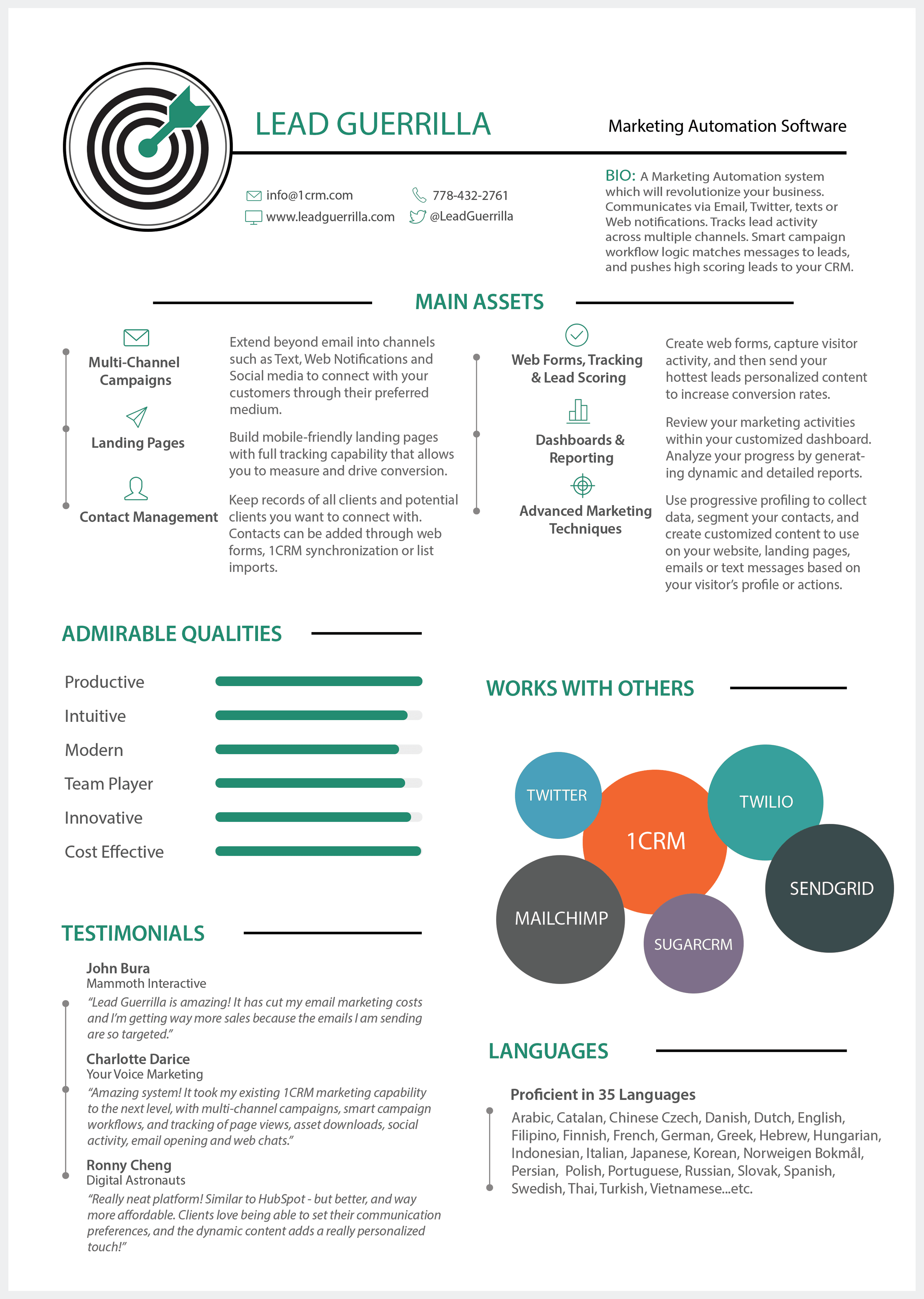 Now that you know what Lead Guerrilla can do, I bet you're curious what it looks like. After all, looks can be as important as skills when representing your business. Here are a few recent snapshots of the system (and not taken at deceptively flattering angles!)
Need a longer interview process? Click here to get more in-depth information on what Lead Guerrilla can do for you.
Worried about salary demands? Fear not! Lead Guerrilla is very flexible when it comes to cost. There are no long term contracts, and pricing starts at $59/month, with discounts available for 1CRM users.
Require a training shift before making Lead Guerrilla an official member of the team? Request your complimentary Guided Tour today! You can also check out the Live Demo to familiarize yourself with the system – perhaps assisted by the User Guide.
Ready to recruit Lead Guerrilla today?