1CRM Opt-In Feature:
Opting out of emails from someone sending you commercial emails is a familiar thing to most of us by now. But what is opting in?
With new legislation in Canada July 1st, and due in several other countries shortly, tight restrictions are being placed on any business looking to send commercial emails. In broad terms, you will only be able to send emails to clients that have contacted you themselves recently (in the Canadian legislation this is called implicit consent, for contact in the last 6 months), or who have explicitly confirmed that they wish to receive emails from you. You can learn more about this new legislation in our previous post –Canada's New Anti-SPAM Legislation – How to Stay Out of Trouble
To allow your clients to indicate explicit consent to receiving emails, 1CRM has just added an Opt-In checkbox for all Leads and Contacts. You can see this new feature on our Demo site, and you will have it on your own 1CRM with the release of version 7.5.9.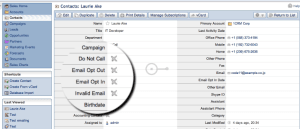 You will be able to add opt-in links into campaign emails, and they will set this checkbox for the client. The result? You'll be able to create target lists based on clients with explicit or implicit consent in your records, and stay on the right side of some pretty tough legislation!